Sometimes the best adventures are the ones that go in unexpected ways.
After the incredibly lengthy drive to JFK airport I soon learned the trade off of flying on budget airlines.
10kg weight limit for the carry on AND personal item together. My bags clocked in at 15kg. With a determination to avoid checking a bag, I piled on 12 Bon Jovi tshirts, a hoodie and leather jacket. Well, I could hardly move my arms. I then stuffed my pockets with socks, toiletries and snacks and headed back to the weigh station. Still overweight. My camera was the offender. I went back to my bench and wrapped my camera around my neck and bumped into my new friend Bill, who helped me stuff everything on me.
I cleared the bag check, and 14 layers and all, made my way through security. I can only imagine what they thought of me, sweaty, unable to move my arms and stuff with everything.
After an eight and a half hour flight to Oslo, I connected to another plane for a short flight to Stavanger. On that flight I sat next to two rock and roll looking girls who, after chatting with, I learned were die hard Jovi fans who were also attending the show! I waved goodbye to my new friends and went to meet a Twitter friend.
I met Maryann @MaryStat at the airport who gleefully greeted me and said she was just waiting for her two other friends. Go figure, her two friends were the ladies who I just chatted with on the plane the whole time.
I started this trip with an adventure in mind and convinced Maryann to go hiking with me. Just the day before I found a close by mountain that had great reviews, great view and looked seemingly easy. Jet lagged and all, we set off to Preikestolen also known and Pulprit Rock. A walk, ferry and bus ride away and we were at the base of Pulpit Rock. Under gorgeous blue skies and sunshine we made our way up the grueling path to the mountain. Moderate difficulty it stated, but it was brutal.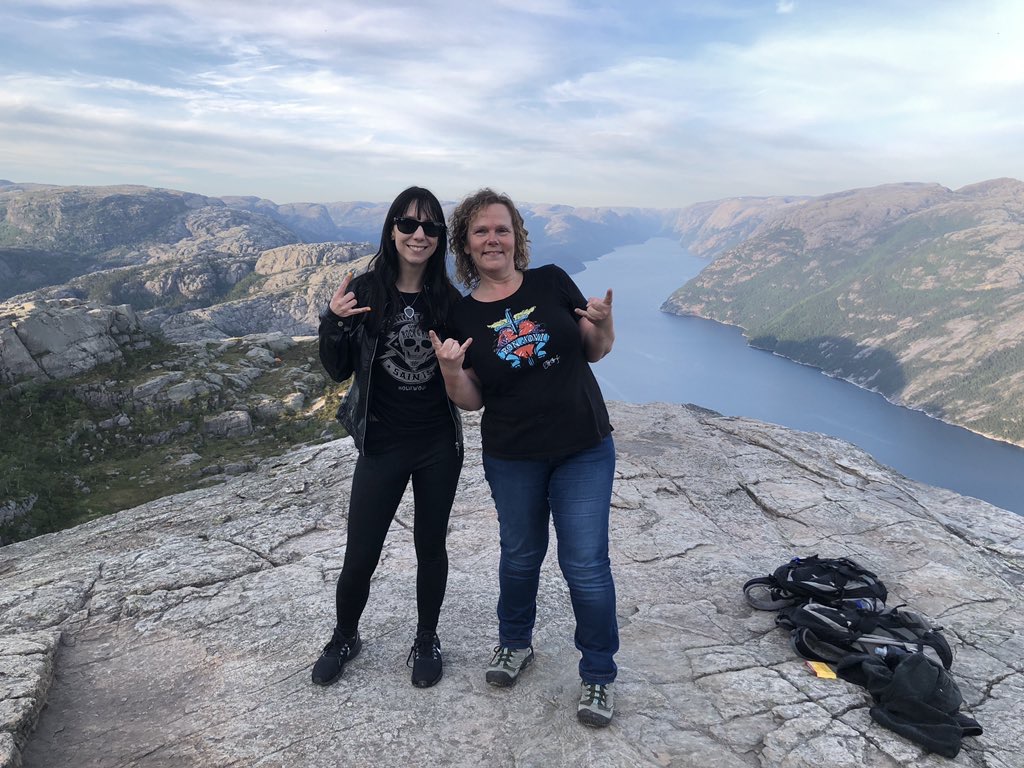 Get your squat game on if you're planning on going here. After arriving to the top, we realized it was almost 8pm, so we rushed down the mountain. After reaching the bottom we realized that there were no busses running and only a few cabs in town. In a desperate attempt to get back, I begged a local hotel to call a cab to take us to a ferry—that may or not be running. The most expensive cab ride later, we arrived to the ferry under dark skies. We waited for about an hour before taking the ferry back. 2 am the day before show day, jet lagged and all, it was time before bed. Miracle number one, I made it back to the hotel.
10am sharp, my eyes felt like they shattered as I opened them. Jet lag. Oof. I packed my bags and got ready for my first European show. Little did I know, it was rainy season. As I was waking out the door with my leather jacket and hoodie, Maryann offered her poncho and joked I'd probably need it. Boy was she right.
I met up with Sophie from Liverpool the first day and we caught the train to Stavanger. We stocked up on snacks and made our way to the venue. Miraculously, there was nobody in line!
Thanks to an amazing fan who had an extra ticket, I got an upgrade to the fan club entry. I received number 2 in the fan club golden circle entry line and Sophie received number 6 in the golden circle entry line. Within an hour of being there, it started to rain...cold rain. We waited in line and had a quick lunch at Pasta Pasta (amazing food.) When we can back, another miracle. Another fan had an extra fan club golden circle ticket and gave his #1 spot to Sophie! We'd be the first people in line behind VIP. Miracle number two— bless Bon Jovi fans.
The venue was super organized and walked us into the venue in an orderly manner. Sophie and I's gut instinct was to go dead center on the catwalk. It was perfect, really.
A Norwegian band opened and they were epically fun, but the rain dampened everything. Thankfully, Maryann's rain poncho helped a bit, but it was still a cold wet day.
The stage is about 5-6 feet high and has the VIP section on one side. Tonight it was on Phil X's side.
The screen has a live feed that pulls in #BonJoviMemories from Twitter so be sure to post at the show to be featured!
From the first few seconds of the opening screen you could tell this fan was a die hard group. During Raise Your Hands EVERYONE was participating. You never find anything like this in the US.
It's My Life and We Don't Run were back to back in the set and made for some awesome energy. The visuals to We Don't Run are so brilliant, it's exciting to see it in the setlist.
"The wetter the better," says JBJ as the rain comes down even harder.
This was my only show seeing Keep the Faith from the center and boy, is it awesome. Phil X runs down the stage and starts the mega solo. Next up is Shanks who swaggerly glides down the walkway. Of course, we cannot forget David Bryan who gets a keyboard solo to end the jam session. My favorite part is at the end when Phil points to David as he jams!
It's time to go to Johnny's Church of Rock and Roll! First off, the visual for this are GORGEOUS. I love the stained glass look. Lay Your Hands On Me started and we could only hope that JBJ would run down into the crowd. At this point in the show, it was at the absolute worse weather conditions. Rain—coming down extra hard. The cat walk seemed flooded so it was no surprise that he didn't come down. The whole crowd was doing the clapping though, which was neat.
Now, Captain Crash is always a joy, but even more so in Europe. Numb, wrinkly hands and all, we waved like a sea of people. Sadly we were fresh out of confetti this show, but we knew we'd stock up for the next few.
Bad Medicine kicked off and JBJ had that glimmer in his eye. He trotted down the catwalk and went off stage on stage left, which is unusual for him! Miracle number 3: right place, right time. JBJ walked around the barricade and actually stopped to grab and shake Sophie's hand. It was a beautiful moment for sure. As he walked by he low-fived my hand and walked across the rest of the stage. Our first show and we got hand touches. Spoiler alert, he didn't come down near us the other shows (or at all) so it really was perfect place perfect time!
Ending on a super high note, the band's last song was These Days. It is sincerely one of my favorites live—up there with Saturday Night. Here in Europe, you don't even have to bring a sign, it's almost a staple in the setlist. Phil's round orange guitar comes out and you KNOW it's game time.
The show ended and we left completely soaked and cold, without a care in the world because we just got our faces rocked off by Bon Jovi. However, I'll never make such a rookie mistake again—the day after I bought a Norwegian rain coat that saved me for the rest of the shows.

On the road again, next up, Sønderborg, Denmark!